Certification Hydraulic Rubber Hose Sae100 R1R2R9R12 Customized Acceptable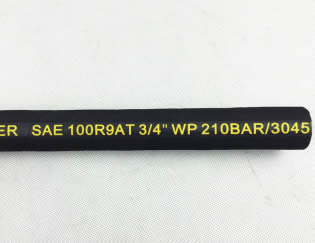 The details of SAE 100 R9 steel wire spiraled hydraulic hose:
Structure

: it is composed of three parts: tube, reinforcement and cover.

Tube

: high quality oil resistant synthetic rubber.

Reinforcement

: four layers of high tensile and high strength spiraled steel wire in alternating direction, making the hose have very high working pressure.

Cover

: super high quality oil and weather resistant synthetic rubber.

Working temperature

: -40 °C to +100 °C.
The specification of SAE 100 R9 steel wire spiraled hydraulic hose (1)
Hose code
Size
Dash size
ID
WD
OD
A
AT
mm
inch
min
max
min
max
min
max
max
SAE100R9-01
10
3/8
-6
9.3
10.1
16.9
18.0
20.6
22.2
21.1
SAE100R9-02
12.5
1/2
-8
12.3
13.5
19.4
21.0
23.8
25.4
24.3
SAE100R9-03
19
3/4
-12
18.6
19.8
26.6
28.2
30.6
32.2
31.9
SAE100R9-04
25
1
-16
25.0
26.4
34.5
36.1
38.5
40.9
40.5
SAE100R9-05
31.5
1/4
-20
31.4
33.0
43.3
45.6
49.2
52.4
50.7
SAE100R9-06
38
1-1/2
-24
37.7
37.7
49.6
52.0
55.6
58.7
--
SAE100R9-07
51
2
-32
50.4
50.4
63.9
66.2
69.9
73.0
--
The specification of SAE 100 R9 steel wire spiraled hydraulic hose (2)
Hose code
Working pressure
Proof pressure
Min burst pressure
Min bending radius
Weight
MPa
psi
MPa
psi
MPa
psi
mm
kg/m
SAE100R9-01
31.5
4570
63
9135
126
18270
125
0.70
SAE100R9-02
28
4060
56
8120
112
16240
180
0.83
SAE100R9-03
21
3045
42
6090
84
12180
240
1.30
SAE100R9-04
21
3045
42
6090
84
12180
300
1.70
SAE100R9-05
17.5
2540
35
5075
70
10150
420
3.08
SAE100R9-06
14
2030
28
4060
56
8120
500
4.30
SAE100R9-07
14
2030
28
4060
56
8120
660
5.63